JJ Morgan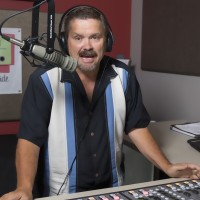 Hi there!  My name is JJ Morgan, and during the day, I'm Operations Manager for Walnut Radio here in Omaha, and am the architect of what you hear daily on Boomer 104-1 and 1490!
About myself…I am from South Omaha, and if I wouldn't have been one of the first white kids bussed in 1975, I would have went to South, and would have graduated with the Class of 1978, but I am an alumni of Tech (RIP).  I have been fortunate enough to have done radio for 40 years, my entire adult life…how cool is that?  And I still have a great time!  I started out at the legendary KOIL, and also spent 3 1/2 years in afternoons at the also-legendary Sweet 98… I have worked all over the country, and have been fortunate enough to have travelled coast to coast and border to border!  I've been fortunate enough to have been kept young by radio (and relatively preserved…or is it pickled?)
I have been married for 35 years to my long-suffering (lol) better half Carey, who met me on the radio in Casper, Wyoming..and we have two daughters, Angela and Stephanie, and three grandchildren.
When I'm not building something cool here at Boomer,104-1 and 1490, I can be found umpiring fast-pitch softball tournaments all over the country, from the young kids to college..it is truly my second love! And not far behind that is developing wines…mmm…good!
Omaha is my home, just like yours, and it's great to be on the radio in my hometown!
Check out some of the cool things I've seen and done here